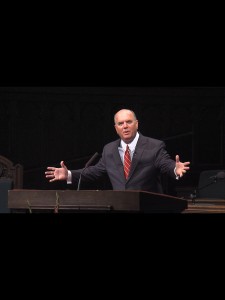 October 30, 2017
Lord Have Mercy!
Luke 18:9-14  To some who were confident of their own righteousness and looked down on everybody else, Jesus told this parable:  "Two men went up to the temple to pray, one a Pharisee and the other a tax collector.  The Pharisee stood up and prayed about himself: 'God, I thank you that I am not like other men–robbers, evildoers, adulterers–or even like this tax collector.  I fast twice a week and give a tenth of all I get.'  "But the tax collector stood at a distance. He would not even look up to heaven, but beat his breast and said, 'God, have mercy on me, a sinner.'  "I tell you that this man, rather than the other, went home justified before God. For everyone who exalts himself will be humbled, and he who humbles himself will be exalted."
The Goodness of the Pharisee
The Guilt of the Publican
The Grace of the Lord
October 22, 2017
Come Before Winter
 Be diligent to come to me quickly.  2 Timothy 4:9
Do your utmost to come before winter.  2 Timothy 4:21
Say What Needs to Be Said
2 Timothy 4:1-2  I charge you therefore before God and the Lord Jesus Christ, who will judge the living and the dead at His appearing and His kingdom:  Preach the word!  Be ready in season and out of season. Convince, rebuke, exhort, with all longsuffering and teaching.
2 Timothy 4:5  But you be watchful in all things, endure afflictions, do the work of an evangelist, fulfill your ministry.
Sound the Alarm
2 Timothy 4:3-4 when they will not endure sound doctrine; but after their own lusts shall they heap to themselves teachers, having itching ears; And they shall turn away their ears from the truth, and shall be turned unto fables.
2 Timothy 4:14-15
Alexander the metalworker did me a great deal of harm. The Lord will repay him for what he has done. You too should be on your guard against him, because he strongly opposed our message.
Settle All Accounts
2 Timothy 4:11 Only Luke is with me. Get Mark and bring him with you, because he is helpful to me in my ministry.
 Send for Support
2 Timothy 4:11  Only Luke is with me. Get Mark and bring him with you, because he is helpful to me in my ministry.
2 Timothy 4:13 When you come, bring the cloak that I left with Carpus at Troas, and my scrolls, especially the parchments.
Be Sure You are Ready
2 Timothy 4:6-8  For I am now ready to be offered, and the time of my departure is at hand.  I have fought a good fight, I have finished my course, I have kept the faith:  Henceforth there is laid up for me a crown of righteousness, which the Lord, the righteous judge, shall give me at that day: and not to me only, but unto all them also that love his appearing.
You are Ready When:
You are not ashamed of the past.
You are not anchored to the present.
You are not afraid of the future.
For I know whom I have believed, and am persuaded that he is able to keep that which I have committed unto him against that day.   2 Timothy 1:12
These things have I written to you who believe in the name of the Son of God so that you may know that you have eternal life.  1 John 5:13
October 15, 2017
Actions Speak Louder than Words!
Matthew 21:23-32
 Sometimes we say one thing and do something else.
God Never Does.